Mr. Jonathan S. Allan, D.V.M.
Scientist
Southwest Foundation for Biomedical Research
Department of Virology and Immunology
7620 N.W. Loop 410 at Military Drive
San Antonio, Texas 78228
ph 1(210)258-9475
fax 1(210)670-3332
http://www.sfbr.org/sfbr/departments/virology/ja_bio.html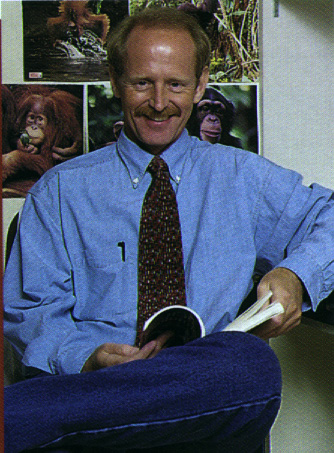 A selected list of publications relevant to xenotransplantation.
Allan, J.S. (1994) Primates and New Viruses. Science (Letter) 265:1345-6.
Allan, J.S. (1995) Xenograft transplantation and the infectious disease conundrum. ILAR J. 37:37-48.
Allan, J.S. and Michaels, M. (1995) Xenotransplantation: concerns aired over potential new infections. ASM News 61(9): 442-443.
Allan, J.S. (1996) (commentary) Xenotransplantation: Prevention versus Progress. Nature Medicine 2:18-21.
Allan, J.S. (1997) HIV-Related Infections in Animal Model Systems, AIDS, etiology, diagnosis, treatment and prevention, 4th edition, ed. DeVita, V., Hellman, S., Rosenberg, S.A., Curran, J., Essex,M., and Fauci, A.S. J.B.
Lippincott Co., Philadelphia, PA. pp. 15-27
Allan, J.S. (1996) Xenotransplantation and Possible Emerging Infectious Diseases. Molecular Diagnosis 1(3): 1-8.
Allan, J.S. (1996) Public health concerns take center stage in Nuffield Council on Bioethics' Xenotransplantation Report. Science and Engineering Ethics 2(2): 486-490.
Allan, J.S. (1997) Silk purse or sow's ear. Infection of human cells by porcine endogenous retrovirus heightens concerns about the safety of xenotransplantation. (New and Views) Nature Medicine 3(3): 275-6.
Broussard, S.R., Commuzzie, A.G., Leighton, K.A., Leland, M.M., Whitehead, E.M and Allan, J.S. (1997) Characterization of New Simian Foamy Viruses (SFV) from African Nonhuman Primates. Virology 237:349-359.
Allan, J.S., Broussard, S, Michaels, M., Starzl, T.E., Leighton, K.L., Commuzzie, A.G., Whitehead, E.M., Lanford, R., Leland, M., Switzer, W., and Heneine, W. (1998) Amplification of simian retroviral sequences from human recipients of baboon liver transplants. AIDS Res. Human Retroviruses 14(10):819-822.
Allan, J. S. (1998) The risk of using baboons as transplant donors: exogenous and endogenous viruses. Annals NY Acad. Sciences. 862:87-99.
Allan, J.S. (1999) Nonhuman primates as organ donors for xenotransplantation? Bulletin of the World Health Organization 77(1):62-63.
Allan, J.S. (1998). Cross-species infection: no news is good news? Nature Medicine 4(6):644-5.